Halo 5 World Championship
Team Exile5 Halo squad will be fighting for a piece of the prize pool of $2,500,000 USD.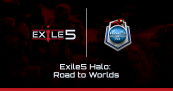 The Halo World Championship groups draw have been announced! Team Exile5 will be in group B and coming up against: #1 EU seed, Infused #3 NA seed, Evil Geniuses and, #5 NA seed, Renegades. The championship winnings have also been announced: For more information on the Halo World Championship visit the official portal for all things Halo World Championship here:https://www.halowaypoint.com/en-gb... Read article.